Been a pretty busy week in the college football coaching world. Bowl season always brings about all sorts of coaching changes and rumors, so let's get right in to what's happened and what to watch for.
Baylor – Matt Rhule
This is such an awesome move by Baylor. For a program that could not be a bigger mess, this was an awesome hire. Not a lot of people probably know a thing about Matt Rhule, so here's a couple key pieces of information about him.
The guy knows what it takes to get a program back up on its feet. Temple was on the verge of becoming completely irrelevant before Rhule got there, and in four years he has completely turned it around. Back to back 10 win seasons and an AAC Championship, only Temple's second conference championship in program history. He's been in this situation before, which is extremely encouraging for Baylor.
Matt Rhule teams are tough. The guy has his guys line up and do board drills in pregame just to get pumped up. He's got that Philly blood running through him and his teams have always been tough. The first thing you have to do when turning a program around is change the culture, so be ready to see a completely new Baylor team in the future.
Rhule could not be farther away from Art Briles. These are two completely different guys. Briles is your offensive guru who is going to win games by hanging 50 on you and running one play every eight or nine seconds. Rhule is a defensive guy, which is definitely my biggest question about the hire if I had one. You don't find many "let's run the ball and play defense" mindsets from Big 12 coaches, so he's gonna have a totally different philosophy from the conference norm.
I think the X-Factor for Rhule early on is recruiting. Yes, he had to recruit against some Big Ten powerhouses and still stole some kids when his program did not have much to offer. However, this is a whole different ball game. You go down to where the stars at night are big and bright and where the the prairie sky is wide and high, you've got to win in state kids. Rhule does not have any ties to Texas high schools and he is going to HAVE to keep kids in state and win recruits starting this off season.
I think Matt Rhule is exactly what Baylor needs. If Rhule can go 8-4 and develop a culture of toughness and stability, you take that all day. They aren't competing for a National Championship next year, but they need a program with stability and Matt Rhule is going to provide that.
Houston – Lane Kiffin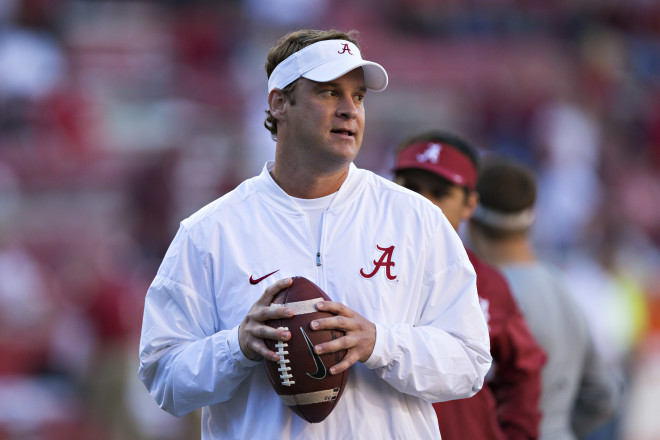 You wanted a move that's going to spin the coaching carousel round and round in all sorts of directions? Here it is. USA Today reported that Houston is set on Kiffin and that it's expected to be announced in the next day or so. So, let's operate under the assumption that Lane Kiffin is the next head coach for the Houston Cougars. There's only one elephant in the room, so I want to address it.
Yes, Lane Kiffin has been brutal as a head coach. That's the big elephant in the room with Kiffin. Guy stunk it up at Southern Cal, and then stunk it up in Knoxville. You can 100% be hesitant about this hire if you're Houston. However, fear not. You know who Lane Kiffin has spent the last three years with? He has literally spent every single day observing and learning from Nick Saban (let's just call Saban "God" from here on out because I don't want to type out Nick Saban and God basically gets the point across). You want to know who else coached with or under God? People like Mark Dantonio and Jimbo Fisher, and other coaches like Will Muschamp, Kirby Smart, and Jim McElwain. Bottom line is that when you coach under God, you learn how to win. Lane Kiffin will be a completely different head coach this time around. Kiffin has played a huge part in these last couple years with Bama, and I don't think that offense is the same without him.
Now, if this holds and Kiffin is heading to Houston, there's a whole lot of questions to be answered all over the place. At the forefront of those, LSU might be screwed. Part of hiring Coach O was for him to go out and get Lane Kiffin to run his offense. If Kiffin's off the table, what happens in Baton Rouge? Orgeron is a defensive line coach, he's got no clue how to put points on the board. They just paid Dave Aranda almost 2 million dollars to keep points off the board, so how the hell are they going to get points on it?  I thought for sure that LSU's thought process was to go out and get Kiffin, so I have no clue where they go from here. Maybe a guy like Mark Helfrich? I've got no idea.
What to Watch For
I'm going to keep following this entire carousel until it stops spinning, because there are a lot of moves that are going to be made. I think there are a few key places and people to keep an eye on.
PJ Fleck: I'm beginning to think the the boat may continue to be rowed in Kalamazoo, because where else is he going to go? Apparently the Oregon door may be closing, so where else would he rather go? Why would he leave a school that he's built from the ground up for a job that isn't top of the line? PJ is a huge player in this whole game, and I'm beginning to think he's staying right where he is.
Charlie Strong: Charlie needs to go to a South Florida, or Cincinnati, or a Temple kind of environment. With everything that happened with him at Texas, he needs to go put in 3-4 years at a Group of 5 school with less pressure before his next run at a big time job. I think Charlie ends up at South Florida, that would be my best guess. So keep an eye on that moving forward.
Jim McElwain: Dark horse here but watch out for McElwain. Guy just got his lunch served in back to back weeks by his in state rival and by that God guy we talked about earlier. I could see McElwain potentially relocating to Oregon. It makes a lot of sense and if Florida doesn't show well in their bowl game against Iowa, I bet McElwain is on the first flight out of Gainesville.
Notre Dame: It is all bad in South Bend right now. In a matter of days Kelly also got his lunch served from his rival out in Los Angeles, while he had players running around kicking injured USC players in the head. On top of that, the NCAA wants ND to vacate all the wins from 2012 and 2013. The last four years it has been Pinstripe Bowl, Music City Bowl, getting served lunch by Urban Meyer, and now no bowl. You can't go 4-8 at Notre Dame, especially against that schedule. I don't know what happens here, but something has to be done in South Bend.
That's all for right now, we'll stay tuned to see what happens going forward.