What we all went through last night was nothing short of a religious football experience. We basically went to Church for about four hours and Belichick was the priest, Brady was Jesus, and the host we ate was Roger Goodell's dead body. That's basically Super Bowl 51 summed up in one sentence. Just an absolute religious experience to go through. 21-3 at half, and then 28-3 halfway through the third quarter. There were those who jumped ship right away, and in typical 2017 fashion, fell victims to the moment without thinking and using their brain.
Well, that's it. The Atlanta Falcons are Super Bowl champions.

— Skip Bayless (@RealSkipBayless) February 6, 2017
Then, there were those who stopped what they were doing, took a deep breath, and said to themselves: "Hang on. This is the Super Bowl. This is the biggest stage in all of sports. This is Tom Brady, the greatest player to ever pick up a Football. This is Bill Belichick, the greatest coach to ever pick up a clipboard. This is about justice prevailing and taking down Adolf Goodell."
21-0 ATL. If you don't think Tom is STILL winning this game, you've never watched a Super Bowl

— Nick Surges (@Nick_Surges) February 6, 2017
*Me right now
Answer me this: How the HELL do you count that guy out? Every single one of you did it, don't lie to yourself. I genuinely want to know how you sit there and say that this game is over when you have Brady, Belichick, and 20+ minutes left in the game. Never out of the fight when you've got number 12. What do you think he said to himself in this moment?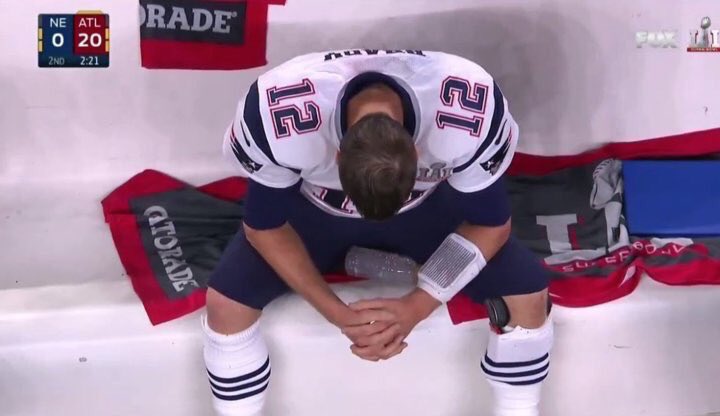 Probably gave himself the greatest pump up speech in the history of pump up speeches. Probably the most intellectual, most unbelievable speech of all time. Something along the lines of, "WWGD: What Would Gisele Do" or Bruce Lee's "Be Water" quote with his own personal spin. I'm just going to need to find out what he said so I can say it to myself when adversity hits.
Now, what's my biggest takeaway? It's not the comeback, it's not the choke job, it's not Goodell getting booed off the stage, none of that. My biggest takeaway is about one thing and one thing only: The New England Patriots After Party
Let me get some of you up to speed really fast. Want to know what Tom Brady, Julian Edelman, Danny Amendola, and Rob Gronkowski go home to at night?
Gisele Bundchen
Olivia Culpo
Adriana Lima
Camille Kostek
These four probably get a three word text from Belichick and Bob Kraft right after the game: "Do Your Job." The Patriot Way, just do your job ladies. These four probably go straight to their best friends and shoot them a "AHHHH WE WON!!! MEET ME AT THE AFTER PARTY!!!" text and boom. You've now got a room full of 30 + Victoria Secret Models, the Brady Bunch drunk out of their mind, Gronk dancing with his shirt off, and Michael Floyd offering to drive everybody home. (By the way, if I had a second takeaway it would be that God loves Michael Floyd more than he loves all of us. Guy gets a DUI and a couple weeks later he's making out with the Lombardi Trophy. DUI's have upsides I guess)
Talk about a 180. #believeinyourself #SuperBowlChampions pic.twitter.com/Z2YVVLlBfJ

— MichaelFloyd (@MichaelMFloyd) February 6, 2017
Back to the after party. Here's a video of Bob Kraft passing out the finest Cuban's to the Pats in the locker room.
Robert Kraft handing out victory cigars, including a special visit to TB12. pic.twitter.com/4GVyJdbrfw

— Dan Hanzus (@DanHanzus) February 6, 2017
This just sets the whole tone. Kraft is probably drunk already and here he comes with stogies for the boys.
Now, we all know that there is only one way to do an after party right. Only one person that takes an after party to the next level.
#NEW: @Pitbull performing at a #SuperBowl afterparty for the #Patriots last night in Houston! (2.5.17)
(Video: imajima/Instagram) pic.twitter.com/3p2GPKZeLa

— Pitbull Updates .com (@pitbull_updates) February 6, 2017
Mister 365! Mister Worldwide!! Give it up for the man!!  You get Pitbull on stage and it's instant chaos. Guy is an absolute show stopper and everybody knows it. Victoria Secret Models everywhere, Brady Bunch hammered, Floyd driving, Gronk naked, and Pitbull. Absolute bedlam in that building. That, my friends, is how you party like a Champion. The biggest takeaway of the night is that the New England Patriots after party is probably the closest thing to heaven on earth. What a franchise. God Bless Tom Brady, God Bless Bill Belichick, and God Bless the New England Patriots. Bottoms up.