Strength In Numbers

4

min read
I've said it before, and I'll say it again : Part of me died on that shot. The second that went in we knew it was over. I still can't get over how just picture perfect Bron Bron it all is. Guy gets all the credit for bringing Cleveland its first Championship since Dinosaurs roamed the earth, yet he gets bailed out again. Just so sad. Have we seen this before? Of course we have.
It's the same shit just in a new toilet. But you know what, it happened. Ray Allen bailed him out, Kyrie bailed him out, and now here we are. I'ts time to move forward, it's time to get our vengeance. Why do we fall? So we can get the hell back up again. And that's what we are here to do. A couple quick things I want to say to some guys before this series gets going.
Kevin Durant, Don't you dare
Don't you dare screw me on this Kevin. Don't you DARE. Did I like the move to Golden State? Absolutely not. It was cowardly, it was weak, it was spineless. That being said, when the whole world turned their back on you, I stood right there next to your side Kevin. I could see the big picture. The enemy of my enemy is my friend. I need 30 a game this series like I need air to breathe. You better be seeing red out there, breathing absolute fire, and being the assassin that I know you are. You made this move to win. If you lose, then we both lose. You won't recover from this, I won't recover from this. Don't you dare Kevin, don't you dare.
Draymond, Please…
I know you've got about four technical fouls to give before you get suspended a game, but please no kicking in the nuts. I've long said you're one of my favorite players in all of basketball. You can play on my team any day of the week. I need you primarily on the road. Embrace the villain role, protect the rim at all costs, and say whatever you want to say to that Father of Three on the other team. But please, none of this.
Klay and Steph, how about…
How about we don't go like 0 for 100 this time around guys. Like just hit a shot every now and then please. Shoot your shot and just splash splash splash. I want circus mode 24/7, no taking the foot off the gas, just get in human torch mode and give us a show.
Zaza, (Yes, Zaza)
Whatever it takes my man. Ankles, knees, elbows, whatever it takes. That's all I have for you.
Kevin Love, Hahaha
2017 Kevin Love is as peak #LebronEffect as it gets. The people that this guy corrupts is just sad. Remember a year ago? Every person in Cleveland wanted this guy benched! Benched! Now a year later Kevin Love is like the Messiah to these people. You think they love you Kevin? Hahahaha. God I wish Lebron James was from Boston, or New York, or Chicago. The world would be such a different place. You turn your back on a city like that, the gates just don't open back up. Lebron James has brainwashed Cleveland so bad, that Kevin Love has to pay for it. What a difference a year makes. Stay you, Cleveland. Stay you.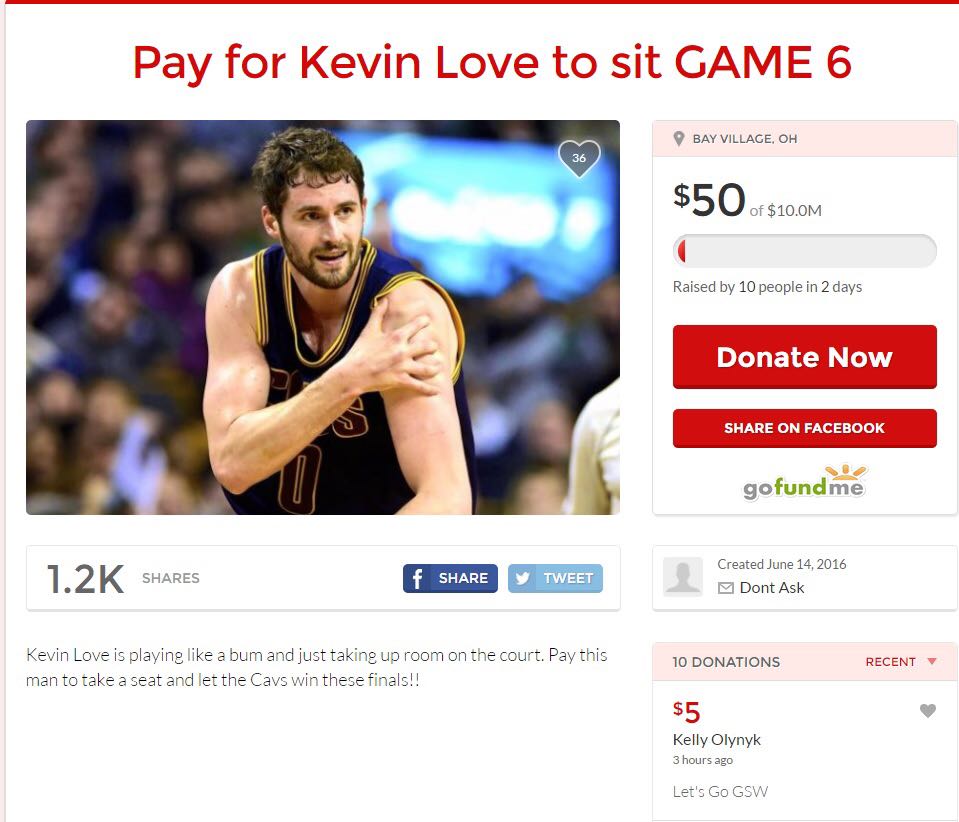 You…
My safety pin boy. My precious Bron Bron. You little bastard. You know where I stand with you. God I can't wait for this. You realize, like just take a second and follow me here. If you lose this series, you're now 3-5 all time in the Finals. You would be 3-5 and if we changed TWO PLAYS throughout the course of those Finals, TWO plays, you are 1-5. We change the luckiest, most garbage Ray Allen heave EVER, and we lift Draymond's suspension for game 5, you are probably standing here right now 1-5. If you fall to 3-5 in the Finals, does Colin Cowherd even have a TV show anymore? Will you stay in Cleveland? Does Charlie Wooding even show his face in public? Golly gee I can't wait. Round 8 baby. You and me. Mono y Mono. The score is me 4 you 3 right now. May the best man win.
Prediction: Warriors in 5. This is going to be a bloodbath. We literally took out Harrison Barnes and inserted Kevin Durant. Warriors in 5, Me in 5, Justice in 5. Strength in Numbers.