Colonial Athletic Association Tournament Preview
Hofstra at one point had the nation's longest win streak, I mentioned it on The B-Fox and B-Frank Show and that same week they lost. The curse began there. But the Pride overcame and ended the season strong winning the CAA regular season title. The tournament is going to be a mess, we've got a William & Mary team that has never made the NCAA Tournament, Northeastern is solid and Charleston has a great duo, plus home court advantage that can easily propel them to the title.
2018 Champion: Charleston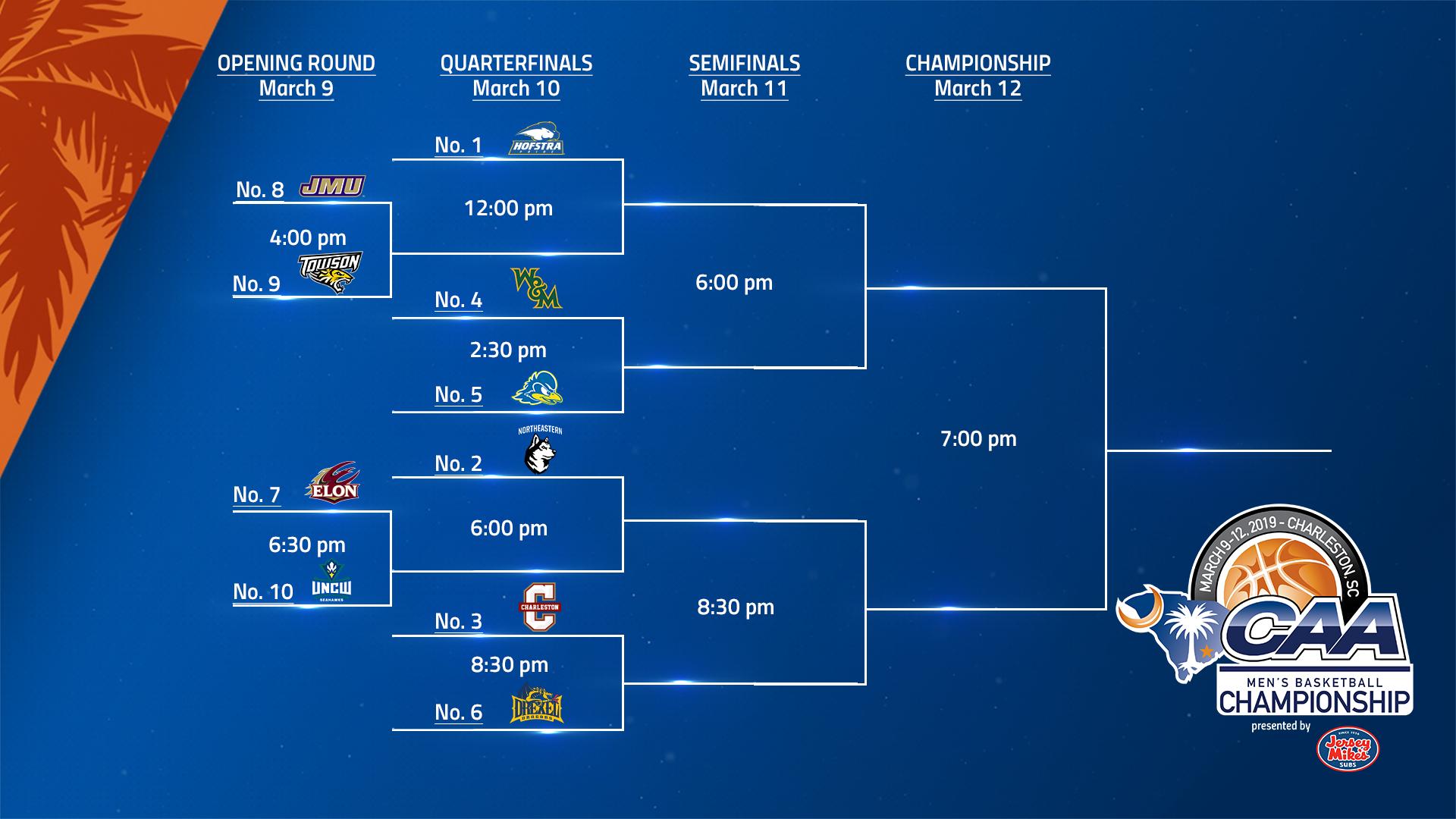 Contenders
1-seed Hofstra Pride 25-6 (15-3)
The 14th best offense according to KenPom, the Pride average 84.3 points a night and have a stud guard named Justin Wright-Foreman. Wright-Foreman scores over 20 a game and shoots the ball extremely well (52.1% from the field and 44.3% from downtown). Really Hofstra just needs to keep on the same way they've been playing and they'll win the automatic bid.
2-seed Northeastern Huskies 20-10 (14-4)
Another top-50 offensive team, Northeastern six players scoring more than 9 points per game. They're lead by Vasa Pusica who shoots it well from the field at 50%. The Huskies need to play stronger defense and in particular, block more shots. They have the offense to keep up with anyone but creating more possessions or in this case taking some away will be crucial.
3-seed Charleston Cougars 23-8 (12-6)
Charleston has a really awesome duo with Riller and Brantley and they are certainly good enough to propel this team to a tournament title. Add in that they hose the tournament and there's a real good chance.
Sleepers
4-seed William & Mary Tribe 14-16 (10-8)
One of the schools that has never made the NCAA Tournament, William & Mary has come tantalizingly close recently and failed each time. The Tribe have a really good foward in Nathan King and they will rely on him heavily to advance.
Spoilers
5-seed Delaware Blue Hens 16-15 (8-10)
Is Joe Flacco elite? The world may never know. But what we do know is that the Blue Hens have a nice duo with Eric Carter and Ryan Allen. Those two will get theirs, but the key to a tournament run is playing strong defense. Delaware is one of the worst teams in America defensively and at this time of year they need to turn it up.
6-seed Drexel Dragon 13-18 (7-11)
Drexel has 7(!!) players averaging over 9 points per game, that is impressive. The offense is solid for this team, but the defense absolutely kills them. They are KenPom 334 in the country and that's not going to win you tournament games. To pick up a few wins they'll need to shoot the 3 better as well.
7-seed Elon Phoenix 11-20 (7-11)
Elon doesn't do too much well. They have a nice duo with Seibring and Santa Ana but they really don't have too much else especially on defense. To win this tournament Elon needs to shoot over 40% from 3.
8-seed James Madison Dukes 13-18 (6-12)
JMU plays one of the slowest tempos in America. They have a couple nice players that can score the ball but what they need is to be ultra efficient on offense as they shorten the game. Their style gives them the chance to beat anyone if they can take advantage.
9-seed Towson Tigers 10-21 (6-12)
Rebounding is one of the things that Towson does well, they, like James Madison above, also play a very slow tempo offense. The Tigers don't shoot the 3 well and they don't turn opposing teams over very much.
10-seed UNC Wilmington Seahawks 9-22 (5-13)
Devontae Cacok is still on this team but he is about all they have. Cacok has been one of the nation's leading rebounders over the past two seasons, this year he averages 12.3, down from 13.5 a year ago. He needs help. If one or multiple supporting players can score well, which this team can do, they can be dangerous.
Predictions
James Madison over Towson
UNC Wilmington over Elon
Hofstra over James Madison
William & Mary over Delaware
Northeastern over UNC Wilmington
Charleston over Drexel
Hofstra over William & Mary
Charleston over Northeastern
Charleston over Hofstra