Mountain West Tournament Preview
It has been a very strange year in the Mountain West. Nevada did not dominate as we all had expected and lost 3 games in conference play. Utah State was fantastic this season and Fresno State was very quietly good. There is talent throughout the league but it seems that only a few teams really have a chance.
2018 Champion: San Diego State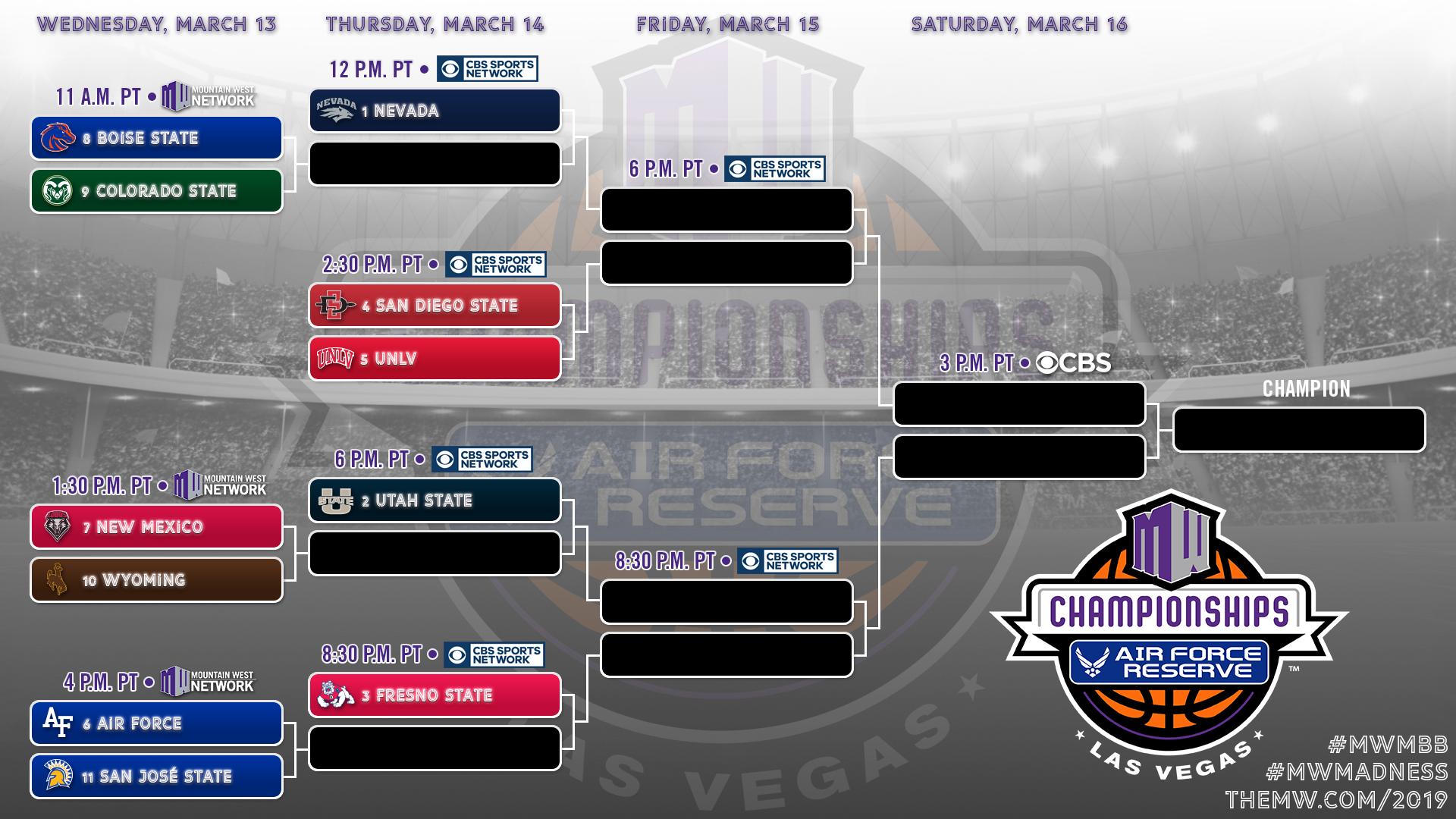 Contenders
1-seed Nevada Wolfpack 28-3 (15-3)
Nevada is the best team in the league and by far the most talented. That hasn't translated to the season we expected but they still won the league. The problem has been foul trouble and settling for jumpers. They match up well with most teams in America so there's no reason to not play their own style.
2-seed Utah State Aggies 25-6 (15-3)
It's been a monster year for the Aggies who have guaranteed themselves a bid to the NCAA Tournament following the win at home against Nevada. Sam Merrill is the reason they can win the tournament.
3-seed Fresno State Bulldogs 22-8 (13-5)
A top-70 team overall in KenPom, the Bulldogs are a better defensive team than offensive but they do both pretty well. Braxton Huggins and Deshon Taylor are a great pair in the back court for Fresno State and they need to continue their strong play.
4-seed San Diego State Aztecs 19-12 (11-7)
The Aztecs have beaten both Nevada and Utah State this year and that alone shows me they're capable of winning the league. The inside out combo of Jalen McDaniels and Devin Watson is the key to their run. Watson shoots it well from all over while McDaniels is better inside the arc.
Sleepers
5-seed UNLV Rebels 17-13 (11-7)
UNLV scores and rebounds the ball pretty well. They aren't great defensively but both of their strengths can make up for it. Their 3 top players are over 10 points per game and they need to share the ball and limit turnovers.
Spoilers
6-seed Air Force Falcons 13-17 (8-10)
Air Force fits the mold of the military academies. They're gritty, share the ball, and don't shoot the 3 well. Lavelle Scottie has continued to improve year after year and has been the best player on Air Force. He will need to have a big tournament.
7-seed New Mexico Lobos 13-17 (7-11)
New Mexico has had a tough year but they have plenty of talent and they knocked off Nevada at home earlier in the season. They need to get big tournaments from Carlton Bragg and Anthony Mathis, but of all the teams in this spoiler section, I think they can actually make a run.
8-seed Boise State Broncos 12-19 (7-11)
Statistically the Broncos are much better than their record shows. They play good defense and can score the ball pretty well. The rotation is very short, and they aren't great on the glass. They need to crash the boards and get some extra opportunities to score.
9-seed Colorado State Rams 12-19 (7-11)
The Rams are 101st in the KenPom's offensive efficiency and have a season average scoring margin of -0.1. It shows that a couple extra stops can make the difference for this team.
10-seed Wyoming Cowboys 8-23 (4-14)
Take Justin James away and this might be a bottom 10 team in the country. They don't shoot the ball well and are rough defensively. James is the end all be all for this team and if he goes off and I mean off, they can win a few games.
11-seed San Jose State Spartans 4-26 (1-17)
If Brandon Clarke still went to San Jose State, then they'd have a chance, but he's killing it at Gonzaga and for that reason and many more, the Spartans don't have a chance.
Predictions
Boise State over Colorado State
New Mexico over Wyoming
Air Force over San Jose State
Nevada over Boise State
San Diego State over UNLV
Utah State over New Mexico
Fresno State over Air Force
Nevada over San Diego State
Utah State over Fresno State
Nevada over Utah State