Big Ten Tournament Preview
It's been three years, but I can finally write one of these previews without talking about how much the Big Ten sucks. This year the conference was arguably the strongest in the entire country, with four teams in the KenPom top 12 and at one point last week all 14 Big Ten teams were inside the top 75.
While it sucks that I can't make fun of rutger as much for being terrible, the conference's depth means this year's Big Ten Tournament is going to be wildly entertaining. Every team is good enough to win multiple games this weekend.
2018 Champion: Michigan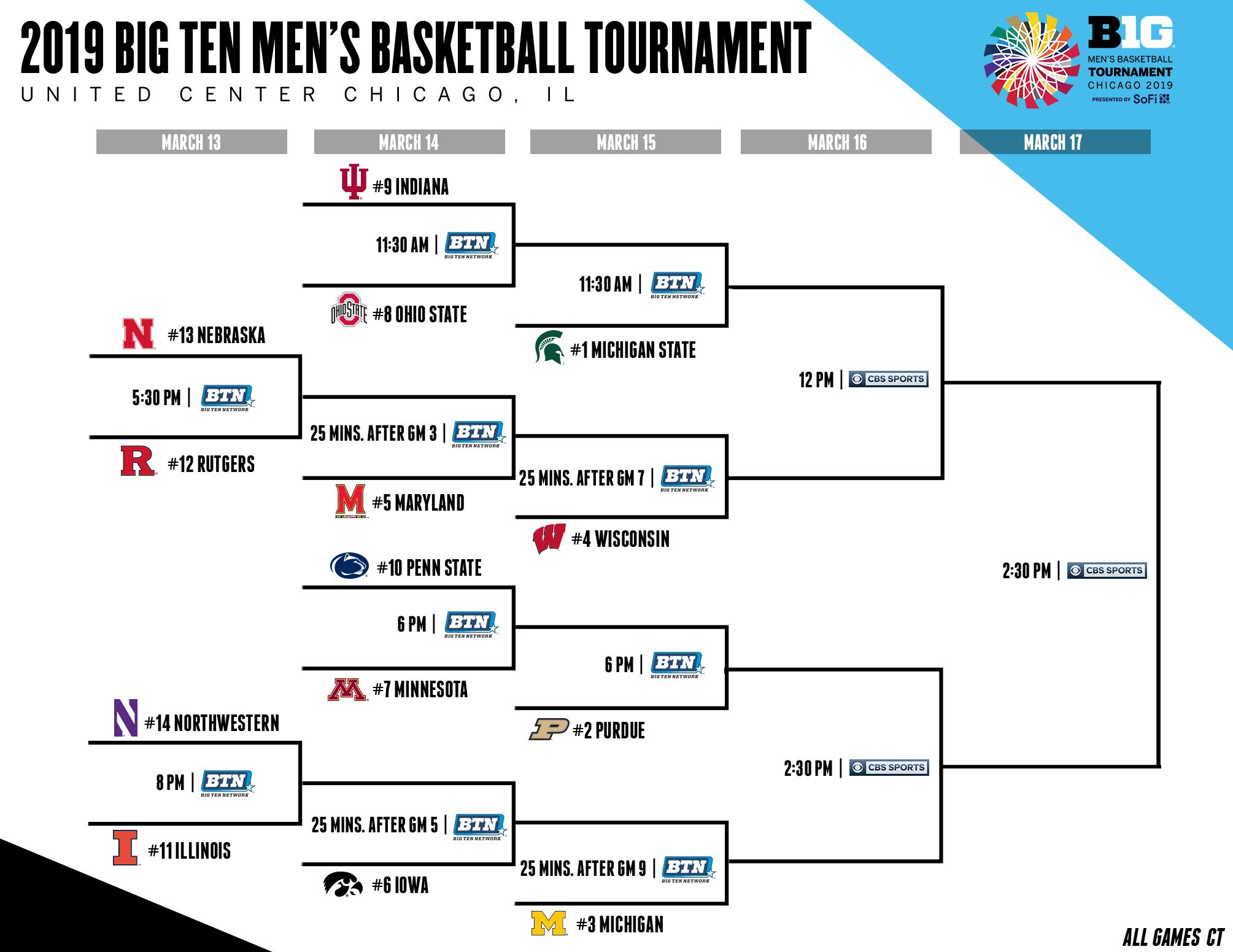 Contenders
1-seed Michigan State Spartans 25-6 (16-4)
Cassius Winston is the best player in the Big Ten and Michigan State is clearly its best team. Adding Nick Ward back to the fold will normalize the frontcourt rotation and will further boost the best rebounding team in the field. The Spartans also led the league in scoring, shooting (in all three facets), assists, and blocks. This team will cut down the nets in Chicago.
2-seed Purdue Boilermakers 23-8 (16-4)
Winston is the best player in the Big Ten, but Carsen Edwards is by far its best scorer. He can score in every way imaginable, and the attention he draws frees up Purdue's deadeye shooters–Ryan Cline and Grady Eifert. Matt Haarms is the most offensively efficient big man in the conference and will need to have a big tournament for Purdue to win it all.

3-seed Michigan Wolverines 26-5 (15-5)
The Wolverines wavered a little down the stretch, but are still the most fundamentally sound team in the Big Ten. No one in the Big Ten plays better defense, no one has a better assist/turnover ratio, and Freshman of the Year Iggy Brazdeikis headlines an incredibly balanced scoring attack.
4-seed Wisconsin Badgers 22-9 (14-6)
Trying to guard Ethan Happ is akin to trying to stop a Pete Sampras serve down the T. You can know exactly what's coming but it's still impossible to stop. Happ averages a double-double and will determine exactly how far Wisconsin will go. The problem is that there is very little help around him. The Badgers don't have much depth to speak of and only shoot 64 percent from the charity stripe as a team–Happ himself only hits at a 46 percent clip.

5-seed Maryland Terrapins 22-8 (13-7)
Maryland simply cannot decide if it's a great team or not. At its best, it boasts the best frontcourt in the conference with Bruno Fernando and Jalen Smith. At its worst, it's a limited perimeter team who turns it over more than anyone else in the Big Ten. The Terrapins need to be at their best in order to make a deep run.
Sleepers
6-seed Iowa Hawkeyes 21-10 (10-10)
The gap between Iowa's offense and defense is staggering. When Iowa is hitting shots, it is as electric as anyone in the conference. But recently its offense has been struggling and the Hawkeyes have been getting boatraced thanks to an extremely porous defense. Iowa allowed opponents to shoot an absurd 45 percent from the field this year and the wheels have completely fallen off down the stretch. The talent is still there to make a run, and it would behoove the Hawkeyes to play through Tyler Cook (Juwan Morgan lite) in the paint rather than being over-reliant on threes.
7-seed Minnesota Golden Gophers 19-11 (9-11)
Jordan Murphy averages a double-double and Amir Coffey is one of the Big Ten's top scorers, but overall the Gophers are extremely unremarkable. Even Indiana (one of the worst shooting teams in Big Ten history) hits more threes than Minnesota. Murphy will have to absolutely take over for Minnesota to avoid an early exit.
8-seed Ohio State Buckeyes 18-13 (8-12)
Kaleb Wesson's suspension is conveniently over just in time for this tournament, and he makes Ohio State a much better team. The Buckeyes' leading scorer and rebounder has a little bit of Jared Sullinger in him and is equally tough to handle in the low post. Along with Wesson, Ohio State's greatest asset is Chris Holtmann–the fact that the Buckeyes could still make the NCAA tournament after what they lost from a year ago is a testament to his coaching prowess.
9-seed Indiana Hoosiers 17-14 (8-12)
The Hoosiers need a strong performance in the BTT to get themselves off the bubble and firmly in the NCAA Tournament field. Fortunately Indiana has never won this tournament or even played remotely well in it. If Indiana is to make a run Juwan Morgan will have to lead the way. The senior was quiet at times during the regular season, but still managed to finish in the top 10 amongst Big Ten players in points, rebounds, and blocked shots. If he and the Hoosiers can play the way they did to finish the year a deep run here is possible.
Spoilers
10-seed Penn State Nittany Lions 14-17 (7-13)
Penn State played as well as anyone down the stretch, winning five of its final six games. Lamar Stevens is a stud and the conference's second-leading scorer, while Josh Reaves (Big Ten Defensive Player of the Year; 2.5 steals per game) and Mike Watkins (1.5 blocks per game) anchor what is a top 25 defense.
11-seed Illinois Fightin' Illini 11-20 (7-13)
The overall record may not reflect it but Brad Underwood's squad definitely made strides this year. The frenetic defensive style Illinois implements forces more turnovers than every other team in the Big Ten, and Ayo Dosunmu and Trent Frazier are one of the best backcourts in the conference on both sides of the ball. Illinois could make a little noise in the tournament but will be extremely dangerous next year.
12-seed rutger 14-16 (7-13)
It's just not the same when rutger is out of the Big Ten cellar. With a true lead guard in Geo Baker and a top-50 defense, the Scarlet Knights took their first big step towards respectability. Unfortunately, rutger doesn't get to play in front of all five of its fans in NYC–so this tournament run could be brief.
13-seed Nebraska Cornhuskers 16-15 (6-14)
Wasting a final year of James Palmer and Glynn Watson will likely find Tim Miles out of a job at season's end. The senior duo certainly expected better from the final season, but they posses enough firepower to win a few games here.
14-seed Northwestern Wildcats 13-18 (4-16)
Chris Collins turned a player into a janitor to try to force him off the team, and Northwestern rewarded Collins by extending him through 2024-25. The school deserves this dumpster fire of a season.
Predictions
Nebraska over rutger
Illinois over Northwestern
Indiana over Ohio State
Maryland over Nebraska
Penn State over Minnesota
Iowa over Illinois
Michigan State over Indiana
Maryland over Wisconsin
Purdue over Penn State
Michigan over Iowa
Michigan State over Maryland
Michigan over Purdue
Michigan State over Michigan